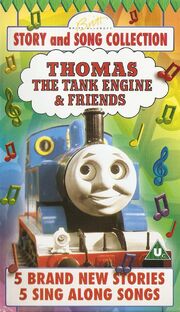 Story and Song Collection is a UK VHS featuring five fourth season episodes narrated by Michael Angelis and five songs. It it Chris Tomson's favourite Thomas VHS.
Song: Thomas We Love You
Story: Gallant Old Engine
Song: Don't Judge a Book by it's Cover
Story: Henry and the Elephant
Song: The Island Song
Story: Thomas and the Special Letter
Song: Let's Have a Race
Story: Bulls Eyes
Song: Toby
Story: Mind That Bike
Ad blocker interference detected!
Wikia is a free-to-use site that makes money from advertising. We have a modified experience for viewers using ad blockers

Wikia is not accessible if you've made further modifications. Remove the custom ad blocker rule(s) and the page will load as expected.