Tenders & Turntables & Other Stories is a US VHS featuring seven first season episodes narrated by Ringo Starr. It was distributed by Strand VCI Entertainment in 1990, Strand Home Video in 1992 and Time-Life in 1994.
Description
Edit
PEEP!-PEEP! Thomas the Tank Engine and Friends are setting off for all new adventures on the Island of Sodor. You'll see Henry getting involved in something fishy, and Percy trying to back out of an embarrassing situation. Find out how Henry avoids being replaced, and why he sneezes at some naughty boys from below a tunnel. So climb aboard as we clear the way for some heartwarming fun!
Our Story Stops Are
Edit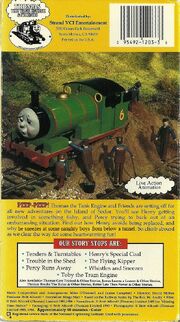 Tenders & Turntables
Trouble in the Shed
Percy Runs Away
Henry's Special Coal
The Flying Kipper
Whistles and Sneezes
Toby the Tram Engine
Whistles and Sneezes is on this video because it is a first season episode and takes place after The Flying Kipper.
In The Flying Kipper when Ringo says Gordon is jealous and that's another story, the other story is Whistles and Sneezes.
Thomas Comes to Breakfast will be featured on Daisy instead.
The front covers show a picture from Thomas Comes to Breakfast, but that episode isn't featured on this release.
The line "We'll do it tomorrow, Sir Topham Hatt will look silly." is moved in two seconds early on Tenders and Turntables.
On the title card of Percy Runs Away, on the 1990 release, a yellow banner is seen at the top.